by Michael Phillips
November 30th, 2008
Carol is working on a new book, and in an effort to make it as labor-intensive as possible, she is actually typing out the text on each finished page (hundreds of them) by hand on an old Underwood typewriter.
This makes a clack clack clacking sound throughout the house, that was probably a very familiar sound years ago, but it pretty unusual these days.
by Michael Phillips
November 28th, 2008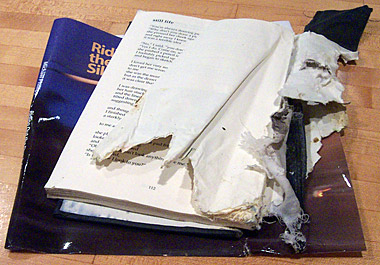 To celebrate Thanksgiving my dog Buddy took one of the hardcover copies of Riding Out the Dumb Silence out into the yard and ate it.
Well, he tried to eat it all, but he choked on some of the words, came back into the house and told me that I really needed to work on my similes and metaphors.
by Michael Phillips
November 16th, 2008
So, I'm sitting here at the kitchen table listening to KPCC, the local public radio station, and of course they are talking about the fires that are burning down half the county. At about 10:40 they had a conversation with Los Angeles Mayor Antonio Villaraigosa.
He said the typical things they say when these fires happen every year, then to wrap up, the host asked, "Mayor Villaraigosa, if you could say just one thing to the people of Los Angeles right now, what would it be?"
by Michael Phillips
November 10th, 2008
A funny thing happened on November 4th. I voted for a Presidential candidate who won.
I know, a lot of you did, but I've voted in every election since 1980, and this is the first time I marked the ballot for the person who actually won. Now I am left with this odd feeling that something is terribly wrong.