by Michael Phillips
January 28th, 2009
I got sick at the beginning of the year and a nasty infection decided to set up a permanent home in my chest. It is improving somewhat now, but only after two rounds of Azithromycin.
I don't usually take antibiotics, and I sure as hell don't go to the doctor for a cold, but this has been something else entirely. I think it comes from outer space. So I was open to taking whatever any doctor wanted to shove in front of me
by Michael Phillips
January 22nd, 2009
A new Fresh & Easy market recently opened a few blocks from the house. That is unexciting news unless you're old and weird, as I appear to be. So it was great news to me, especially since the other nearby markets are in crowded areas at least a mile away, and feature everyday high (and seemingly higher by the week) prices.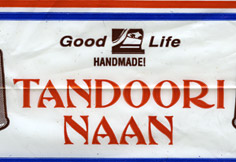 But as fun and interesting as it is to talk about grocery shopping, it isn't really why I'm here today. I am here to show you my naan label.
by Michael Phillips
January 20th, 2009
Did the fresh new President Obama just include "nonbelievers" in his list of religious beliefs that made up America? I was listening to his inaugural address in the car, and I'm not sure I heard that right. That has to be a first.
Let's ask Google.
by Michael Phillips
January 15th, 2009
I wasn't going to write anything about the death of Stooges guitarist Ron Asheton, because it seems like a million articles have popped up on line since his death, written by the millions of people who loved him and loved the Stooges. Maybe the internet made the Stooges famous, because 30 years ago you couldn't give a Stooges record away (they made their first record 40 years ago, in 1969).
But I digress. I have been thinking a lot about Asheton in the past couple of weeks because I've been listening to the ridiculous, excessive, riveting and at times downright spine-tingling seven disc box set of The Complete 1970 Funhouse Sessions.
by Michael Phillips
January 5th, 2009
It is really becoming irritating to see so many people writing about how much they are suffering financially when they have chosen to live outside of society's typical work/pay scenario.
There are certain choices that you make, and you have to live with those choices. If you choose to be a street mime or operate a Michigan turtle rescue, you shouldn't complain that you are broke or hungry, that your bank is screwing you with overdraft fees, or your electricity was shut off.