by Michael Phillips
April 22nd, 2018
I don't post much here lately, and that's because the things that used to go into a blog post now go into the podcast.
So if you want to know what's happening, go have a listen, eh? Listening is easier than reading, any teenager will tell you that.
by Michael Phillips
June 25th, 2015
I told you that a podcast ate my blog, but other than that I haven't said much about it around here. Maybe because I don't see much separation between here and there, but I suppose there is some separation. I've been putting out a podcast every week for six months now, so this may be a good time to sum up the experience so far. I'll say up front that I should be writing the next podcast rather than writing this, which should give you some idea of what the schedule is like.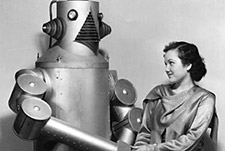 Before I do anything I haven't done before I like to find out as much about the thing as I can. I don't mind making mistakes, but unnecessary mistakes are for fools. And I'm no fool! Right? Okay, that's debatable. But I spent weeks researching podcasting because I really didn't know anything about it. I didn't listen to podcasts and I only had a vague idea of how it all worked technically. In that research I learned how to do everything the right way, then I went off and did just about everything wrong.
by Michael Phillips
April 23rd, 2015
When I started the podcast I thought it would be no big thing, and I'd still be posting here in the blog. As with so many things in life though, I was quite wrong.
As it turns out, the podcast eats up huge chunks of my time. I write most of it down before I say it into a microphone, and that means I'm writing about 4,000 words each week for a 30 minute podcast. To put that into perspective, the longest posts here in the blog have been 1,400 or 1,500 words.
by Michael Phillips
December 27th, 2014
The first episode of the podcast is up. I'm waiting for approval from iTunes before I really try to promote the thing, because iTunes is where it's at apparently for the podcast thing. So here's a sneak peek. You can be first.
by Michael Phillips
December 23rd, 2014
Oh look, he's back.
It's been a few months, for those of you who didn't realize I was gone.
You're probably thinking I ran out of things to say, but that's not it. I have a few posts here that I've written but haven't published. So my absence wasn't due to a lack of ideas.
No, what's been occupying my time is I've been planning a podcast!