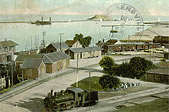 There is a flurry of condo building in downtown San Pedro, and the locals are divided about it. The business and land owners are all for anything new, no matter how wrongheaded, vile or destructive it is, and then there are the non-land and business owners (myself among them) who grimly count down the days until we are nudged out of this beautiful joint by millionaire carpetbaggers and idiots.
The builders of these condos call them lofts, but they are not lofts, they are apartments. They are building hundreds of expensive apartments in a downtown area still dominated by wandering drunks, gangsters and crack heads. Which I guess is where this description on the "Vue" web site comes from:
It's like Silverlake with an ocean. San Diego's Gaslamp District without the lookie-loos. Long Beach, when you could still afford it. There are hip little bistros, unique shops and enticing entertainment, all within walking distance. Retro buildings and cutting-edge galleries. A farmer's market every Friday, brimming with fresh produce and artisan crafts. Not to mention Bridge to Breakwater, a waterfront project on the horizon, with more shopping, more entertainment and more great places to eat. And you can say you were there from the start. Lucky you.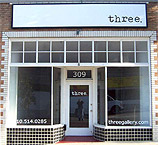 Yeah, lucky you. Too bad the last "cutting edge gallery" closed a couple of months ago, due to the aforementioned gangsters and crack heads. All that's left as far as "enticing entertainment" goes is the same tired stuff that's been downtown for years, and it's not getting any better.
But what is better?
I like downtown San Pedro, but I don't spend a lot of time there. I imagine that I'll spend even less time there when the condo goonies move in. Not that I believe for a second that any of them will eat or shop much in Pedro. They will drive out of their underground parking and straight to the 110 freeway North (you can't go South from San Pedro, kid). And no one will blame them. It isn't exactly one-stop shopping around here.

But the alternative is even more horrifying and brutal, and that is a bunch of Starbucks/Gap/Cingular stores on every corner with out-of-towners strolling up and down the blocks as if it were Disneyland or Beirut.
Because anything that will draw in the outside world – which is what the local "haves" want so badly – will drive out everyone who isn't bringing home a paycheck in the low six figures. Which is also, incidentally, what the "haves" very badly want.
I'm conflicted because I believe in personal freedom. If you own a downtown lot and want to build a skyscraper for investment bankers and debutantes, that's your business. The thing is, when all the things that are great about San Pedro are gone, none of these fuckers will even care. They won't care because they actually want to live in a big Universal Citywalk of bright lights and white faces.
What I don't get is, if that's what you want, that antiseptic shopping environment, there are plenty of options for you already. Plenty of places to go live and be happy.
But if you like what San Pedro is/was, the options are dwindling daily.