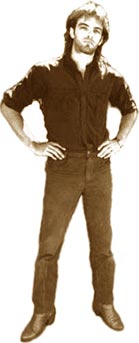 Be careful when you use Google to check up on an old friend. Sometimes you can get some fucked up results.
Mark 'Mort' Baumann
MINNEAPOLIS Former Mankato resident Mark James "Mort" Baumann, 39, of Minneapolis died Tuesday, Oct. 22, 2002, at Minneapolis. He was the victim of a homicide.
Mr. Baumann was born May 18, 1963, to Ted and Mary (Gunther) Baumann at Mankato. He was a graduate of Mankato West High School. A musician, he had played in several bands.
I realize I'm a couple years late with the news, but I guess I'm out of that particular loop these days.
Mort was the bass player for Sonny Vincent and the Extreme back in the day. We traveled all over the country together under wretched conditions and played to literally dozens of unimpressed hillbillies and punk rock scumbags. Okay, and some really cool people too.
Mort was a disturbingly arrogant motherfucker (how very unusual for a rock musician!) who managed to get on my nerves in one way or another each and every day. But shared experience does tend to bond you to people, whether you'd hang out with them outside of work or not.
Actually, I have to admit that I rather envied his supreme and unwavering confidence in himself. There is something very pure and powerful about that, and people who are capable of tapping into it tend to illicit extreme reactions in others, one way or another.
At his core though, he was really a very kind and entertaining lad. He meant no harm to anyone, and it brings me down to learn of his death. By homicide, no less. Jesus.
So here's to Mort. Live fast, die young, rock and roll!
Who's next? I don't know, man. I'm laying off Google for a while.