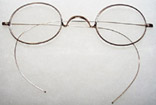 Well, ahhhh, let's see. God damn, a lot has gone on in the last week and a half. First thing is, I got HIGH DEFINITION TV!
Actually, I got glasses. My vision has always been most marvelous, or so I thought. I'm getting old, see, so I can't see things up close so well. So I went to the eye doctor and got me some expensive reading glasses. I don't use them.
A few months later I went back to the eye doctor and got a prescription for "seeing everything else" glasses, and it's made the formerly blurry world most high def! I didn't realize the world was blurry, but it was indeed, very blurry. So there you have it. Why did I wait two months to get the glasses? Because I wait two months to do everything. Fix the car, file the taxes, you name it.
What else happened? Not much.
New Job. That's pretty insane, because it's in the same industry (if you can call it that) but in a completely different niche. I'm at a Windows host now. Not just Windows, but ultra-geek-cutting-edge Windows. In fact, 2006 Product of the Year and 2006 Best Hosting Service award winning Windows hosting. I know, you're really impressed, aren't you?
For the vast majority of you that don't know what the hell I'm talking about, imagine that you worked at a school teaching people how to speak Spanish, and you did that for ten years or so. One Friday you worked at your Spanish teaching job, then suddenly the following Monday you got up in the morning and went to a new school where you taught Hebrew. Only you don't really know Hebrew, only enough to buy a pizza and insult someone. Now what do you do?
You adapt, I guess, and that's what I'm trying to do.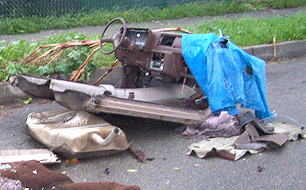 One morning – my third day on the job – I was tooling on in, minding my own business when the transmission on the official SMOG.NET Trooper gave up the ghost. I limped it around Pasadena until I got to a transmission shop, where they said, "$1200 plus parts!" so I drove on in to work. Well, I tried to drive on in to work, but the dead transmission only made it a few blocks.
Bottom line – weighed the options and am fixing the official SMOG.NET Trooper. Final tab: $2298 – plus tax. "But mjp, that's the down payment on a new car!" I know. Don't ask. Seems like a good idea, We shall see.
so, the day the Trooper died, I took the train home. From Pasadena to San Pedro is only 40 miles on the freeway, and probably 30 miles as the buzzard flies, but on the train it's Gold line to the Red line to the Blue line, and the Blue line is fucking slow, so it takes hours.
I've lived in Los Angeles for 22 years, and I've taken the bus once, and now the train once. I'm taking it tomorrow morning too, and may even take it a couple days a week from now on. It's slow, but it's only $3 a day, or $52 a month. I spend almost $52 filling the tank of the Trooper once.
Freeways to work, by the way — I take five of them. Five freeways. 110 to the 5 to the 2 to the 134 to the 210. That's a total of 461 I think, which is a lot. But it doesn't take me any more time than driving from San Pedro to Culver City, which I did for three and a half years, so I'm not complaining.
I'm carrying a moleskine notebook around with me lately to write shit in, and it's pretty handy. A top notch tool, I have to say. I bought it in Sedona, AZ a few weeks ago. Oh yeah, we went to Phoenix for a show Carol was in, and decided to go to Sedona and the Grand Canyon afterwards. Carol had never seen either. The Grand Canyon, if you haven't been, is really fucking big.
So yeah, notebook, notes, poems – Riding Out the Dumb Silence is finished. I got a proof from the publishing joint, and it's okay, but I might want to completely change the format and cover and who knows what else, so it may not be ready for prime time on June 1 like the "buy shit" page says. Bear with me. It took me ten years, you can wait a couple of weeks.
What else, what else — oh yeah – I had a nice sit down meeting with two blokes from Scotland Yard and a couple of FBI agents. Go figure. It's part of the joy of running datapimp. I've dealt with the FBI a few times before, but this is the first time I've given a statement to Scotland Yard detectives.
If the case goes to trial I may have to go to London to stand up at the trial and throw goose livers at the defendant, or whatever they do over there. On the UK government's dime, of course. Wouldn't that be tragic? Yeah. As long as I don't have to wear a big white wig and murmur while the opposition party speaks, I don't care. I like London. I hope they need me to come testify.
Cars, scanners, shoes, pants, hair, sandwiches – all these things figured prominently lately, but I'll be damned, this is more than enough typing.
Okay, one more thing – Linda Bukowski came to Carol's studio last weekend. Groovy, baby.
The Jasmine is blooming in the yard, and we're going to stay in San Pedro until they drag us away.