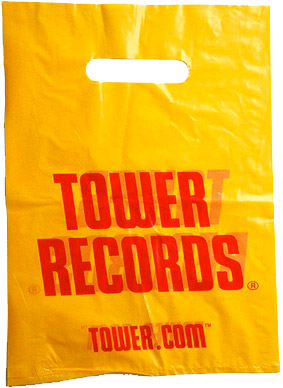 I just read that Tower records is near bankrupt, and in the last year Musicland, Sam Goody, and Wherehouse have all filed for bankruptcy protection, and one day, there aren't going to be any record stores. Why? Because modern music sucks ass! No, really, it is because of peer to peer file sharing networks.
Let's get all the bullshit out of the way right up front – I love peer to peer networks. I routinely steal any software that I can, and I download music freely using LimeWire (and previously, the dear, departed napster).
I do these things because I am not wealthy. I am barely solvent. In fact, I filed for my own bankruptcy protection recently, and I still owe the United States government more than seven thousand dollars.
Once I was a prosperous Internet employee, riding high on a wave of money, free booze – er, I mean Cokes – and love. No credit card debt, tens of thousands in the bank, a house overlooking the Pacific ocean (renting, mind you) – yes, it was a sweet time.
But something happened somewhere along the line. People wised up, money dried up, and everything was fucked up. And then one day, ding dong, the witch is dead – you're fired, jackass, get out of here.
What does all this have to do with record stores vanishing? I don't know. Maybe nothing. All I know is I haven't been in a record store in ten years. But back in the day I discovered a ton of brilliant, worthwhile, beautiful music while flipping though the LP's in the local record store. Things I never would have bought, let alone known about, if it hadn't been for those racks and racks of 12″ vinyl discs.
For instance, I was 14 years old, flipping through the bins at Three Acre Wood, a tiny, shithole-in-the-wall record shop in St. Paul, when I spied in the rack at eye level the New York Dolls first album. I picked it up because it was just so fucking weird looking. The hippie behind the counter said, "That's some kick ass rock and roll you have there," and I must have looked like I was frightened or repulsed, because he said, "bring it here," so I did.
He smacked the album down on the counter, splitting and removing the shrinkwrap in an amazing sleight of hand move that I was never able to recreate, pulled out the album and put it on the turntable.
Now, you may be familiar with the New York Dolls music, and here in 2003 it is easy to dismiss it as retro trash, insignificant or just plain garbage, but in the context of its time it was shocking and revolutionary. Not because of the style or format – it was only rock and roll – but because of the execution. It was stinky raw real live loud fucked up shit! And while I discovered the Stooges a few weeks later (who were more stinky raw real live loud and fucked up than any band before or since), the Dolls were my first taste of nirvana. No pun intended, Kurdt.
The story of where the Dolls music lead is old and boring and has been articulated by folks much more talented than myself, but suffice it to say, it was the beginning of something. And something was better than nothing.
Three years later the Ramones were playing in a bar in St. Paul. A little dive that held, at most, 100 people. I was only 17 so I couldn't get in to see them. But I had memorized that first album and I considered the Ramones to be messengers from god, so I was outside the bar while they played.
I broke away from the pack and went around back to the alley and the wall nearest the stage and found a hole in the wall where a ventilation fan was mounted. I slid a milk crate under the hole, and when I stood on it, I found that if I jumped high enough I could see through the ventilation hole. I balanced on the crate for 40 minutes, hopping up and down, catching 2 second glimpses of the back of the Ramones, in St. Paul, in 1977.
And that is why we need record stores.
But they are a dying breed, so don't shed a tear for them. Just keep sucking down the Britney and Metallica over Dad's DSL line. Everything will be fine.
Really.
The digital revolution has fed me and it has fucked me, and all of you, too. We believe we have the world at our fingertips, but we're idiots. We don't have anything.
Life goes on and the sun comes up every day and every day things are just a little bit more fucked up, and one day we will all be so sad and whiny and blue. So sad that we did not recognize what was important until it was too late. But such is our world and such is humanity and such is life since we wiggled out of the pond to an insignificant rock and roll beat.