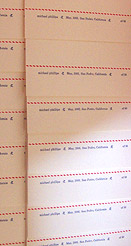 Working on the poem-composed-on-the-spot and printed-in-the-garage project, and so far it's coming along nicely. First two colors are complete, just need to lay down the black poem text now, which will be the hardest part.
It was weird writing it as I picked up the type. It was hard not to think ahead to the next line, and for the most part I didn't. I can't tell right now whether the poem itself is worth a damn, since I can't read backwards very well. But it seems to have my typical rhythm and outcome, for better or worse.
All in all very interesting, especially considering that I won't really know how it turned out until I pull the first finished copy from the press.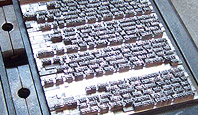 I've decided on a limitation of 50, printed on a nice laid card, which means nothing to most of you, but yeah. Again, don't know what I'll do with them. My trusty pressroom assistant Carol says sell them for $1000 each.
Well, if I do sell them, they'll be available around here somewhere at a WalMart price. But make no mistake, this shit is top drawer! Yeah.
The whole thing may be a worthless jerk-fest or a stunning work of genius. I guess it depends on your point of view. I am in the wait-and-see camp myself. The genius camp looks deserted from here.
At least it was an original idea, and those are harder and harder to come by, you know.