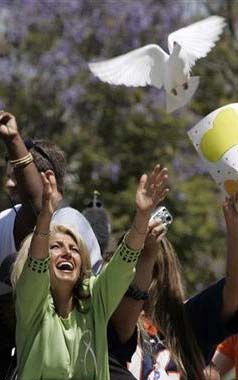 A fan releases a dove outside Santa Barbara County Superior Court in Santa Maria, California, Monday, June 13, 2005, after Michael Jackson was acquitted in his child molestation case.
The caption continues:
When asked what she would have done with the dove had Jackson been convicted, she replied, "I had planned to kill and eat the dove, to protest Man's inhumanity to Michael. But now I don't have to eat the dove, and that's super!"
Onlookers were shocked when the woman then took off her colorful Santa Barbara Dashiki, and pop-locked around the courthouse parking lot completely naked, chanting, "Wish upon a star! Dance upon a car! Jesus juice, Jesus juice, rar rar rar!"
On the courthouse lawn thirty members of the Jehovah's Witness cult doused themselves with gasoline and set themselves ablaze, mistakenly believing that "acquittal" meant that Jackson had been found guilty.
Santa Barbara Fire Department quickly contained the blaze and prevented damage to surrounding property.
Mr. Jackson was unavailable for comment.