I walked out to get the mail today, and out of the corner of my eye noticed that something didn't seem quite right.
Most of us don't pay much attention to our surroundings, since for the most part we see the same tired crap every day. So when something has changed, it can pop right out at you. Ad today something was definitely popping out at me from the side of the house. Someone had propped something up against one of the big fan palms.
The side of our house is on a somewhat busy street, with a lot of foot traffic heading toward the park. So it isn't unusual to find weird trash in the yard (or to have people walk right up to the house and dig through our trash cans), but this was more than just weird trash.
I walked over kind of slowly – because you know, it could have been an Al Qaeda bomb or something – and snuck up on what I thought may have been a discarded doll. But on closer inspection it turned out to be Santa Claus.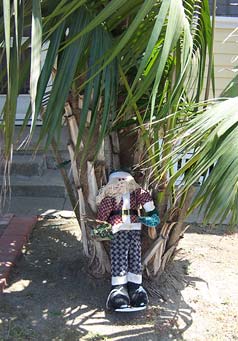 My first instinct was to drag Santa to the trash can, but I came in to get Carol instead, because it seemed like something she should see. When I told her I was going to dump it, she said it should stay where it was. She was right, of course, so we left it there to greet the holiday weekend passersby.
I live in an area that is typically out of control on the fourth of July. The first year we lived here we thought the drunken neighborhood was conspiring as a group to burn down our house with various explosives and flaming soccer-ball sized projectiles. We now understand that this is normal behavior on the fourth, and don't take the small yard fires personally.
But today was kind of weird. The day started out overcast and foggy, and it looked like no one was going to show up for the first day of the long weekend. It was nerve-rackingly quiet all morning, and then I went out to find Santa Claus in the yard, which only added to the overall off-kilter feel of the day.
People say, "How can you live in San Pedro? it's so far away from everything!" which is bullshit, really. We're no further away from anything than anyplace else in Los Angeles. But I gladly perpetuate the myth that San Pedro is very far away and very dangerous, and, you know, for your own good you should probably stay away.
Because it's easily the most beautiful, freaky, awe-inspiringly cool place I've ever lived. And I don't want the likes of you poking around, moving in, and fucking that up!
So here's to the San Pedro fourth of July Santa Claus! a perfect, kismet-like symbol for the fourth. Wave your flag, show your Santa, blow shit up — it's all good.