If you've ever read anything by Charles Bukowski, you no doubt remember the feeling you had the first time you came across his work. For better or worse, Bukowski is one of those authors who you don't easily forget or ignore. Very few people are ambivalent about him.
I have enjoyed reading Bukowski since I picked up South of No North
 out in the California high desert town of Joshua Tree more than 20 years ago and read the entire thing without once moving from the ratty old couch I was slouched into. You could say I became a fan that day.
Bukowski died in 1994. But he was a ridiculously prolific poet, so his publisher, Black Sparrow Press, continued to release "new" poetry collections for 15 years after his death. Sounds like a sweet deal, doesn't it? A seemingly endless stream of new books from a popular poet.
But as I would read each of the posthumous books I couldn't help feeling that they were a little off. Reading them could give you the distinct and uneasy feeling that maybe Bukowski had lost it when he had written this stuff. That the quality of his work began to slip at some point (forget for a moment that the books were not published in the order the poems were written).
But thankfully, we have access to a lot of Bukowski's poem manuscripts and a lot of other uncollected work in the Bukowski forum. And a funny thing happens when you start to compare the manuscripts (or literary magazine publications) with the posthumous Black Sparrow books – you see that a lot of things have been changed. And not for the better.
In the posthumous collections, Black Sparrow publisher John Martin has made changes to the majority of Bukowski's poems. Damaging changes that run counter to just about everything Bukowski represented. Wholesale removal of references to drinking, drugs, sex and madness. Changes that completely alter the meaning of the manuscripts. Changes that don't even begin to make sense. It feels like nothing short of gleeful, unrepentant vandalism and destruction.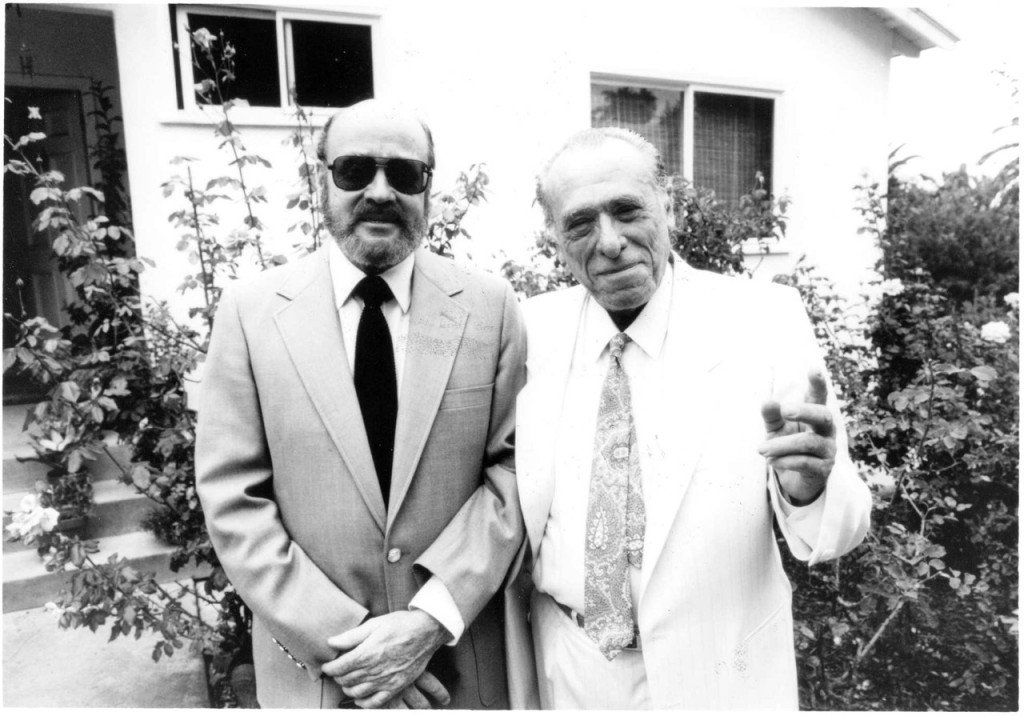 I know what you're thinking, "Yeah, dummy, that's what editors do." But Martin did not make changes to Bukowski's work when Bukowski was alive to complain about it. He waited until Bukowski was safely in the ground, then he pranced out into the sunshine like a cute little baby bear after hibernation and commenced to shit all over the poems. You might say that's a cowardly move, to wait until an artist dies before you start destroying their work, and I would agree with you.
Now, when I bring this subject up among a certain crowd, they bristle. They become very defensive of Martin and downright antagonistic toward me while they list the many ways in which he is a wonderful man, a veritable saint some of them would have you believe. They weep and wail, "Why are you trying to drag his name through the mud?!"
Of course I'm not dragging his name through the mud, I'm merely pointing out what he did, bringing it to light, and giving my opinion of his actions. And my opinion is that what Martin has done is nothing short of a literary crime.
Martin will soon be dead and quickly forgotten, but his legacy of destruction will live on. 100 years from now people will still be picking up Bukowski books for the first time, and even though they won't know or care who Martin was, they have a very good chance of suffering from his negative impact on much of Bukowski's work. An impact that will be felt forever in half of Bukowski's available poetry collections.
I didn't invent or create that legacy for Mr. Martin, he did it all by himself.
Others make the point that it's possible that it wasn't Martin himself who was responsible for the changes. And indeed when Bukowski angrily complained about the changes Martin made to the novel Women, Martin blamed them on "lazy typists" (yes, he really said that). But according to the person who typeset all of those books, there was no laziness or sloppiness involved. And of course, no one would tolerate any such thing from a professional typesetter in a professional publishing house.


Martin had to remove his changes from Women and publish a revised second printing. But if you read the original first edition, the one with Martin's changes, they have the same amateur creative writing class stink that the posthumous poems do. I have come to recognize it as the stink of John Martin's hand.
(You can see a prime example of "the stink" at the end of this post. The words that have been removed are in the red boxes, the words that have been added are in green boxes. You decide whether the changes make the poem better.)
Here's the thing – whether he did it intentionally or simply allowed it to happen due to extreme negligence doesn't even matter. He was the editor. The responsibility for the final product lies with him.
I don't pretend to know what he was thinking while he scribbled inane, flowery crap-language all over Bukowski's manuscripts and chopped away at the guts of the things with his red pencil. Others who have spoken to him have noted his tendency to downplay any inaccuracies or mistakes in his books as unimportant. A wave of the hand and Saint John has officially dismissed you and your concerns.
Which is tragic. That someone so simultaneously careless and willfully destructive can deface so much of the work of one of the 20th century's most influential poets and no one thinks it matters, or they believe that nothing can be done.
While it's true that nothing can be done about the books that are out there now, something can be done. That something is letting people know that the posthumous poetry collections are tainted and that they should be read with that in mind.
Honestly, I don't think they should be read at all, but I know that's unrealistic, so here's all of this instead. Make of it what you will.
But me, I'm sticking to the books that were published during Bukowski's lifetime, the manuscripts and the literary magazines that published him without castrating him.
---
For your convenience and edification, here is a list of all of Bukowski's poetry collections, divided into two groups. The first group are Bukowski poems, read them, enjoy them, bask in their wonderfulness. The second group are John Martin poems. Don't read from the second group if you can help it. John Martin is a shitty poet.
Poetry collections that were published during Bukowski's lifetime and remain mostly unmolested:
The Days Run Away Like Wild Horses Over The Hills
Mockingbird Wish Me Luck
Burning in Water Drowning in Flame
Love is a Dog From Hell
Play the Piano Drunk Like a Percussion Instrument until the Fingers Begin to Bleed a Bit
Dangling in the Tournefortia
War All the Time
You Get So Alone at Times That It Just Makes Sense
The Roominghouse Madrigals
Septuagenarian Stew
The Last Night of the Earth Poems
The dirty dozen posthumous Black Sparrow/Ecco books that should be avoided:
Betting on the Muse
Bone Palace Ballet
What Matters Most is How Well You Walk Through the Fire
Open All Night
The Night Torn Mad With Footsteps
Sifting Through The Madness For The Word, The Line, The Way
The Flash of Lightning Behind the Mountain
Slouching Toward Nirvana
Come On In!
The People Look Like Flowers At Last
The Pleasures of the Damned
The Continual Condition
Don't buy them, don't read them, and if you already own them, throw them out into the yard for the gophers and weasels to tear up and use to make nests.
Update: To clarify, the John Martin edits ended with The Continual Condition, so there are more recent posthumous poetry collections that you should seek out. These collections were edited by Abel Debritto, who used original sources such as manuscripts and early magazine appearances, and did not impose any of his own "creative editing" on the poems. They're all worth reading:
On Writing
On Cats
On Love
Essential Bukowski: Poetry (anthology of previously published poems)
Storm for the Living and the Dead
This article is about Bukowski's poetry, but it should also be noted that the posthumous short story collections from City Lights books are faithful to what Bukowski wrote, and well worth your time:
Portions from a Wine-Stained Notebook
Absence of the Hero
More Notes of a Dirty Old Man
The Bell Tolls for No One
The Mathematics of the Breath and the Way – On Writers and Writing
And here's the comparison I promised you earlier. The words outlined in red were removed from the manuscript version, the words outlined in green were added to the published version:

Haven't had enough of this subject? Try this related post, The senseless, tragic rape of Charles Bukowski's ghost; the prequel.