The article, The senseless, tragic rape of Charles Bukowski's ghost by John Martin's Black Sparrow Press tells the story (read that first if you haven't already), but for the curious there is an interesting bit of back-story.
In the 1990s I ran an artists/writers/photography site called smog.net, and it had a Bukowski section. The primary tool on the site was a works database. A pretty comprehensive resource (for its time), and a valuable tool for anyone who was researching – or simply curious about – Bukowski's mountain of work.
The database referenced manuscripts, taken from over a thousand manuscript images I had access to. Someone said, "Hey, you reference these manuscripts, how about you let us see 'em, eh?" which was a reasonable request. So I posted a few hundred manuscript images, and everyone said, "Hooray!"
Well, almost everyone.
John Martin contacted me and demanded that I remove the manuscripts from the site. We went back and forth on the issue for some time, my argument being that the manuscripts were a valuable research tool. Eventually, he said that he felt that the manuscripts were "works in progress," and that "Bukowski wouldn't have wanted them made public."
I couldn't argue with that, so I removed public access to them.
But as time went on and people continued to compare the available manuscripts to the published work it became quite clear that they were not works in progress. Most publications printed the poems verbatim from the manuscripts (as did Black Sparrow Press when Bukowski was alive – and that is the main point that I hope to make here).
Wormwood Review, for example, published more than 400 Bukowski poems, and when you compare them to the manuscripts, there are very few changes.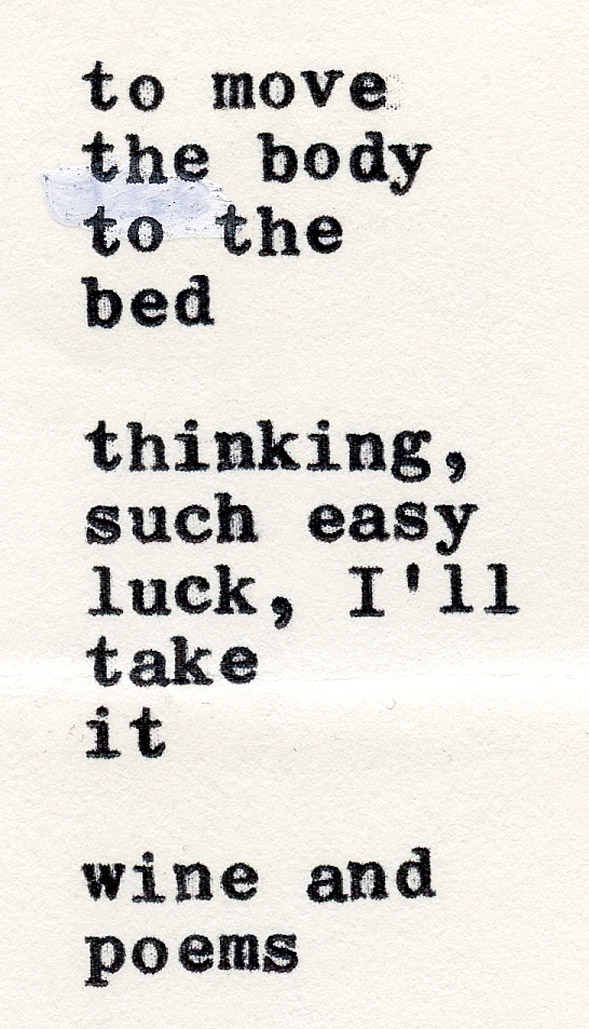 The conclusion has to be that Bukowski sent them out expecting that what was in the manuscript would be what wound up in print. He couldn't have any other expectation, since that is almost always what happened.
And that brings us to what I believe was Martin's real reason for wanting the manuscripts to disappear: he didn't want people comparing them to the posthumous books. Because when they did, they couldn't help but come to the same conclusion that many of us have. That being, after Bukowski's death, someone at Black Sparrow began making significant, damaging changes to Bukowski's work.
Clearly, a large number of manuscripts being made public is the only way a significant number of people can make the connection and realize what has been done in the posthumous books. If they weren't publicly available, only a tiny number of Bukowski researchers (and by tiny I mean one or two) could ever connect the dots. And if they chose not to mention it or make a fuss over it, the gutting of the work would remain a secret.
To illustrate that point, almost all of the poem manuscript images that I had came from one seller on eBay, Scott Harrison. In 2011 he wrote to me, "For years John Dulaghan (the filmmaker that did Born Into This), and I have complained about Martin tampering with poems…" So they discuss the "tampering" among themselves, privately, but no one who has any sort of acquaintance with Martin will say anything about it publicly. Everyone seems to be waiting for "someone else" to say something.
Which is why the alteration of the work remained virtually unknown for a long time. But secrets are hard to keep now that the Internet is a pervasive part of people's lives (ask Scientology). So it wasn't a secret that could be kept forever. Perhaps Martin thought it was a secret that could be kept indefinitely, and he wouldn't have to answer questions about it. Perhaps he didn't know about it. Only he can answer that question.
Personally, I don't have any questions for Martin. As I said in the first article, the "why" isn't important. What's important is that the issue is out in the open so people can read the posthumous work knowing that it has been defanged, and worse, made pedestrian by the editor. Either directly or through neglect.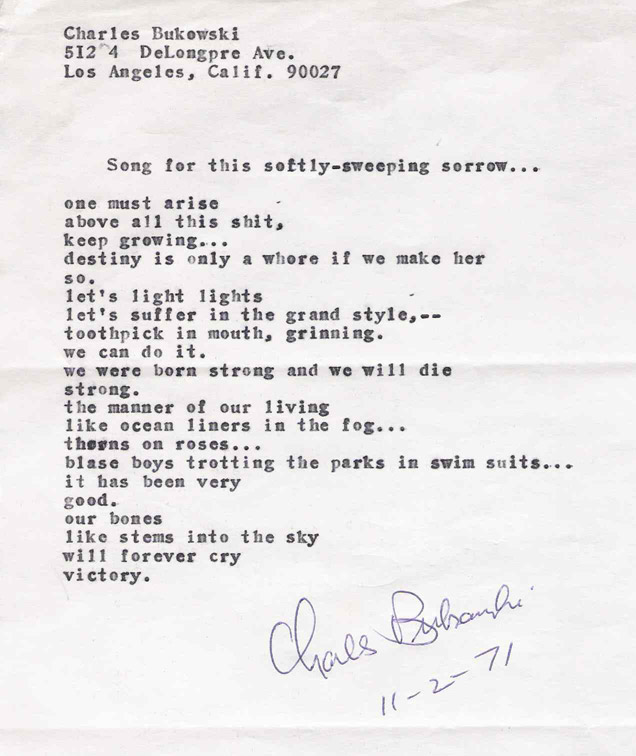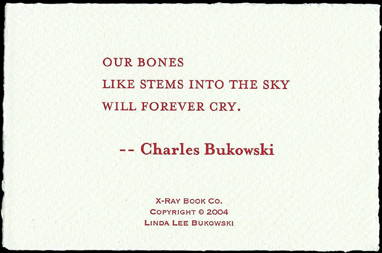 If the fact becomes widely known, maybe one day we will get definitive editions of Bukowski's posthumously published work. It seems unlikely at this point, but stranger things have happened.
In the meantime, you may have to do some digging to find authentic Bukowski. But if you take the time to dig, your efforts will be rewarded with a body of work that disrupted the status quo and changed the course of modern poetry forever.
—
Still haven't had enough of this subject? Try the last (I promise) related post, The tragic flogging of a dead rape horse, a.k.a. locking the door on Bukowski's ghost and throwing away the key.